Serving Tampa, FL & surrounding area
Resurfacing Bathtub Service in Tampa, FL
Is your bathtub looking old or worn out? Replacing a
bathtub
can be costly, time-consuming, and disruptive to your daily routine. So if you'd rather take a less extreme and most cost-efficient approach, consider bathtub resurfacing.
At Amazing Glaze, we feel that updating your bathtub doesn't have to cost a fortune. For less money and less of a mess, you can breathe new life into an old tub with our resurfacing techniques. At Amazing Glaze, we pride ourselves on providing excellent service, no matter the scope of the job at hand. We'll work hard to get your bathtub looking its best so that you're satisfied with the end result.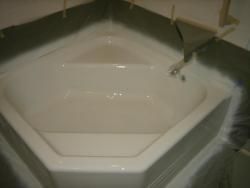 If your bathtub needs a facelift, we're here to help. So don't settle for a bathtub that's clearly showing signs of wear and tear. For more information or to schedule an estimate for your bathroom, call us today.
Kevin truly is amazing ! Honest , reasonable and on time ! Had a great experience hiring him

- Irena Strecha. 3/11/2019

He did an amazing job on my 1959 Porcelain tub. It had a chip. It looks brand new. Honest and dependable.

- Sandra Murray. 4/4/2018

Amazing Glaze has resurfaced numerous tubs and showers for me over the past 20 yrs, all perfect. Kevin is very reliable and will complete a job as scheduled.